Family-Friendly Events in San Luis Obispo County
(Note: Please check with direct organizer for any last minute changes and cancellations, before attending.)
December 9 - 11, 2022 (Fri - Sun) - Santa's Pop-Up Reindeer Farm from 10AM - 4PM at Charles Paddock Zoo. Two reindeers will be visiting Charles Paddock Zoo with plenty of photo opportunities. Included with General Admission. See pictures that I've taken at the Charles Paddock Zoo. Address: 9100 Morro Rd., Atascadero, CA 93422

December 9, 2022 (Fri) - Community Tree Lighting at Los Osos Baywood Park from 4:30PM - 8PM. At 4:30PM, join at the picnic area of the Red Barn, on the corner of Los Osos Valley Road and Palisades Avenue! They will decorate the Christmas tree, sing carols, and enjoy light snacks! Bring the whole family (& an ornament for the tree if you like)! Address: 2190 Palisades Ave., Los Osos, CA 93402
December 9, 2022 (Fri) - Winter Wonderland in Downtown Atascadero from 5PM - 9PM. Free event. Atascadero's Sunken Gardens and the entire downtown will be transformed into a magical snowy paradise! 75 Tons of snow make up will offer larger snow pile play areas and will help make way for a massive snow slide built. This year's snow themed events include a lot of kids' activities and Santa and Mrs. Claus! Address: 6505 El Camino Real, Atascadero, CA, 93422

December 10, 2022 (Sat) - Breakfast with Santa in at Tar Creek Ranch in Arroyo Grande for $10 a person from 8:30AM - 11AM. Enjoy a pancake breakfast and picture with Santa. See my video reel of Tar Creek Ranch in a past visit on my instagram. Address: 2514 Huasna Road, Arroyo Grande, CA 93420
Dec 10, 2022 (Sat) - 2022 "Happy to Be Here" Christmas Parade in Los Osos Baywood Park from 10AM - 12PM. The route follows LOVR from Fairchild Way to Palisades Avenue. Bay Osos Kiwanis Club will have a pre-parade Pancake Breakfast in front of Bay Auto & Tire. Following the parade, the Needs & Wishes Fundraiser will be held a the South Bay Community Center. Address: 2190 Palisades Ave., Los Osos, CA 93402

December 10, 2022 (Sat) - Free Monthly Family Art Activity for kids and kids at heart from 11AM - 1PM every second Saturday at San Luis Obispo Museum of Art. Address: 1010 Broad Street on the west end of Mission Plaza, San Luis Obispo, California 93401

December 10, 2022 (Sat) - Tree Lighting & Snow at Elm Street Park from 5PM - 7PM. This is a fun and FREE community event that will include carolers, a food and toy drive, food trucks, a s'more station, and 12 TONS of snow leading up to the main event of Santa lighting the tree at 6 p.m.! Invite your friends and family to this enchanting event. Address: 1221 Ash St., Arroyo Grande, CA 93420
December 10, 2022 (Sat) - Lighted Boat Parade in Morro Bay by The Rotary Club from 6:30PM - 8PM. Free. Address for GPS: Morro Bay Embarcadero or 1185 Embarcadero, Morro Bay, CA 93442

December 10, 2022 (Sat) - Christmas in Cayucos Open House from 5PM - 8PM. A fun and festive Downtown Cayucos tradition of evening shopping, dining, and merriment along Ocean Ave. Local businesses stay open late to host visitors. The Cayucos Lioness Club will be providing refreshments: Christmas shopping fun, visit with Santa and Mrs. Clause in their quaint home, free horse-drawn carriage and wagon rides, crafts for kids. See my picture of Cayucos Pier last year during the holidays on my instagram. Address: Along Ocean Ave., Cayucos, CA 93430
December 10, 2022 (Sat) - Vine Street Christmas Victorian Showcase from 6PM - 9PM. Free. Santa, Mrs. Claus, Snow King & Queen and Scrooge. Address: Vine St - Between 8th and 21st Streets, Paso Robles, CA 93446
December 11, 2022 (Sun) - Santa's Workshop and Holiday Tree Lighting at Ramona Garden Park in Grover Beach from 11AM - 5:30PM. Address: 993 Ramona Ave., Grover Beach, CA 93433
December 11, 2022 (Sun) - Free Day at the Garden at the San Luis Obispo Botanical Garden from 9AM - 5PM. See my instagram reel of our visit here at San Luis Obispo Botanical Garden. Address: 3450 Dairy Creek Rd., San Luis Obispo, CA 93405
December 14, 2022 (Wed) - Santa's Sleigh at Oak Park in Paso Robles from 6PM - 7:30PM. Hot cocoa, candy canes and photos with Santa. Address: 901 30th St., Paso Robles, CA 93446
December 15, 2022 (Thurs) - Holiday CaliKids Class for 4-6 Year Olds from 4PM - 5PM at Elm Street Community Center. Holiday attire encouraged! Free. Pre-Register online. (Note from blogger: I've seen CaliKids classes get full a week before the event so pre-register as soon as you know you want to attend. Only register one ticket per child.) Accompanying parents do not need to register for a ticket. Address: 1221 Ash St., Arroyo Grande, CA 93420
December 15, 2022 (Thurs) - Santa's Sleigh in Centennial Park in Paso Robles from 6PM - 7:30PM. Hot cocoa, candy canes and photos with Santa. Address: 600 Nickerson Dr., Paso Robles, CA 93446
December 17, 2022 (Sat) - Holiday Magic at Charles Paddock Zoo from 10AM - 1PM. Admission is $12 for 13 years old and older, $8 for ages 5 - 12 years old, $5 for ages 3 and 4 years old and $10 for seniors 65 and older. Children 2 years old and and younger are free. See pictures that I've taken at the Charles Paddock Zoo. Address: 9100 Morro Rd., Atascadero, CA 93422
December 17, 2022 (Sat) - Holiday Fair & Toy Drive from 2PM - 6PM at South Bay Community Center. Craft tables, cookie decorating and more. This fun family event brings the Los Osos / Baywood community together, collects new toys for the Toys for Tots drive, and raises funds for future SBCC events and programs. Address: 2180 Palisades Ave., Los Osos, CA 93402

Now though December 23, 2022 - Cambria Christmas Market in Cambria from 5PM - 8:30PM. This requires advance ticket purchase. Weekday prices are cheaper than weekend prices. See my video reel of my visit at Cambria Christmas Market. Address: 2905 Burton Drive Cambria, CA 93428
Now through December 24, 2022 - Holiday Plaza & Santa's House at Mission Plaza. A beloved tradition, Santa's House returns to the Plaza. Young visitors can recite their holiday wish list and pose for photos with Santa out on his front lawn before entering the house to purchase their souvenir photo package and receive free goodies! Ride the Classic Carousel, dazzling photo spots, and an animated musical light show! Address: 989 Chorro St., San Luis Obispo, CA 93401. See my video clip below from our visit last year at Santa's House and when we rode the carousel there when they transformed Mission Plaza to Holiday Plaza.
December 31, 2022 (Sat) - New Year's Eve Celebration at Downtown City Park Paso Robles from 7PM - 11PM. Free admission. A 9PM ball drop is set to coincide with midnight on the East Coast so attendees can enjoy ringing in the New Year and still be home before midnight. Will feature live music, a DJ, fire dancers and a bonfire. Food trucks will be on site to serve attendees who haven't taken advantage of one of the 25+ restaurants downtown and adult beverages will be available. There will also be local beer, champagne and distilled spirits available for purchase. Address: 12th St & Park St, Paso Robles, CA 93446
Ongoing - Every 2nd Saturday of every month, San Luis Obispo Museum of Art has a free monthly family art activity for kids from 11AM - 1PM. Free and open to the public. Address: The lawn outside SLOMA's Mission Plaza double doors - 1010 Broad St., San Luis Obispo, CA 93401
2023 Events
January 1, 2023 (Sun) - Polar Pear Dip at 12PM in Cayucos Beach. Each year, thousands of brave individuals and teams converge on Cayucos Beach to start the new year with a dip into the Pacific Ocean! This is a favorite Cayucos Chamber of Commerce family-friendly event, in partnership with multiple county agencies. Address: Pacific Ave and 10th St Cayucos, CA 93430
January 14, 2023 (Sat) - 7th Annual Tamale Festival in Atascadero at Sunken Gardens froom 11AM - 7PM. Expect over 20 tamale vendors. Free entertainment. Vendors can participate in the "Best Tamale Contest". Participants can participate in the Tamale Eating Contest and the Chihuahua & Pet Costume Contest. Address: 5942 West Mall Atascadero, CA 93422
February 4, 2023 (Sat) - Daughter Dance in Pismo Beach at Pismo Beach Veterans Hall from 6PM - 8:30PM. Hawaiian Luau theme. Tickets will be available starting on 12/1/2022 (more details to come). Address: 780 Bello St, Pismo Beach, CA 93449
Through April 2023 - Sensorio (famous art light installations) in Paso Robles is open for weekends. Weather permitting only as it's all outdoors. See my most recent video clip of Sensorio during our 2022 summer visit at Sensorio on my instagram reel.
Free Things To Do in SLO
Monarch Butterfly Grove
You'll find Monarch butterflies around here seasonally from late October - February (sometimes longer) but this state park is always open and free with occasional special events! The grove is located between Grover Beach and Pismo Beach and you park off the road. There are no designated parking areas. Once you walk around the grove, if you are up for it, you can actually head to the beach continuing on the trail towards the back! The trail heading towards the south side is beautiful. See
pictures and blog of the Monarch Butterfly Grove and the Meadow Trail
that connects to it. Address: 400 S Dolliver St, Pismo Beach, CA 93449
Bubblegum Alley
Always free to explore in downtown SLO! Address: 733 Higuera St, San Luis Obispo, CA 93401
Avila-Pismo Beach Trolley
This FREE trolley service connects you from the Pismo Beach Premium Outlets all the way to Port San Luis via Avila Beach, Avila Valley (Avila Barn, Bob Jones Bike Trail, Avila Hot Springs Resort, and KOA campground) and various resort hotels in Shell Beach and Pismo Beach. Connections from the trolley are available at the Pismo Beach Premium Outlets for SCT (Route 21 and Route 24) and RTA (Route 10). The trolley runs in 3 seasons with varying schedules. Regular schedule runs Friday, Saturday, Sunday. to see more info, go to the
Avila-Pismo Beach Trolley website
.
Elephant Seals in San Simeon
Come see the elephant seals in their natural habitat in San Simeon! Also part of SLO County and located close to Hearst Castle, any visitor can park near designated parking areas near the beach to see the elephant seals. Of course there's no admission because you're viewing them in their natural home. Amazingly, you can get close to them without them being bothered by it (but not too close!) and they seem to be so used to human visitors. There's a boardwalk and viewing area. Address: 250 San Simeon Ave, San Simeon, CA 93452.
See more elephant seal pictures and a full review of San Simeon.
Playgrounds for Kids in SLO County
Mitchell Park
Located in downtown San Luis Obispo is Mitchell Park with a large playground, picnic tables and public restrooms. Address: 1400 Osos St, San Luis Obispo, CA 9340
Meadow Park
Not too far from the famous Madonna Inn hotel is a park with a playground and a trail called Meadow Park. With a lot of green grass area, families can come here and enjoy a picnic on a nice day out. Address: 2333 Meadow St., San Luis Obispo, CA 93401
Dinosaurs Caves Park
Located in Pismo Beach is the beautiful Dinosaurs Cave Park with a playground. Right on the edge of the park are the cliffs with amazing views of the ocean! You can't miss a visit here. Like with any public parks, it is free to come here and the views are world class. To see more pictures of Dinosaurs Caves Park and the cliff view there, go to: this blog entry:
Dinosaur Caves Park Cliff pictures
. Address: 2701 Price St, Pismo Beach, CA 93449
Spyglass Park
Avila Beach Park
Chumash Park
Located in Pismo Beach is Chumash Park that has a large playground with a soft ground. There's also a basketball court, trail and clean private bathrooms. Address: 156 Ventana Dr., Pismo Beach, CA 93401
Del Mar Park
Del Mar Park is a lush nine-acre park featuring an outdoor basketball court, amphitheater, roller hockey rink, children's play area, horseshoe pits, and two great barbecue and picnic areas. Address: Island Street & Panorama Drive, Morro Bay, CA, 93442
Hero Park
Hero Park is located in Grover Beach/Arroyo Grande area and has a playground for the smaller kids. It's located in a quiet residential area. Address: 1600 Farroll Rd, Grover Beach, CA 93433
Atascadero Lake Park
Located in Atascadero and next to the Charles Paddock Zoo is a large green park with a playground and a nice lake. The playground makes it very convenient for the kids after the zoo. They don't sell food at the zoo so you can bring a picnic here at this park (right outside the zoo) and enjoy a little a break. Address for GPS: 9100 Morro Rd, Atascadero, CA 93422
City of Arroyo Grande Parks & Recreation Park
Also known as Elm Street Dog Park, it has both a playground and dog park. There is also a Park & Recreation building there that has preschools and special programs for kids. Address:1221 Ash St, Arroyo Grande, CA 93420
Rancho Grande Playground and Park in Arroyo Grande
Rancho Grande Park is one of the bigger parks in San Luis Obispo county that is very kid-friendly. Address: 500 James Way, Arroyo Grande, CA 93420
Oceano Playground Park
This large playground is only 2 blocks from Oceano Beach with a lot of green grass area! Address: 1330 Dewey Dr, Oceano, CA 93445
San Luis Obispo is lucky to have beautiful and many kid-friendly beaches including: Avila Beach, Morro Bay, Grover Beach and Pismo Beach. Here are a few suggested activities to do by beach.
One of the best well-kept beaches, this beach town covers the bases for wine enthusiasts and families. They have swings right on the sand of the beach, a small pier, a full playground nearby and many restaurants along the beach. During the spring (mid-April) through summer months, they have a seasonal
Avila beach farmer's market
on Fridays from 4pm - 8pm. You can also take advantage of their
free beach trolley
during these busy months from Pismo Beach Outlets to many stops at Avila Beach, including First Street, near the farmers market.
See pictures of the Avila Beach farmer's market and Avila Beach pier.
Free to park and free to visit the barn animals here!
San Luis (SLO) Lighthouse
Go visit the Point San Luis (SLO) Lighthouse located on Avila Beach. This lighthouse is owned by Diablo Canyon Power Plant and runs tours on Wednesday and Saturdays year round for different times. There are more tour times during busy seasons. Costs are different for adults and children. Proceeds go towards their restoration efforts.
Address: 1 Lighthouse Rd, Avila Beach, CA 93424
Address: 50 San Juan St., Avila Beach, CA93424

Avila Beach PIER
You can find whales coming through here which makes Avila Beach so special. The Whale Trail sign is located at the entrance to Avila Beach Pier just off Front Street, adjacent to unique shops, tasting rooms, charming boutique hotels, vacation rentals and restaurants. The sign is still accessible for all to enjoy although the majority of the Avila Beach Pier is currently closed for repairs.
Address: Pier 3 Port San Luis, Avila Beach, CA 93424

Additionally, you can go on another pier at Avila Beach that is further down from the main road called
Port San Luis Pier
. This pier is my favorite of all the piers at Avila Beach.
Pismo Beach
The most famous SLO beach is Pismo Beach and attracts the majority of the tourists who come to this area. Come to the Pismo Beach Pier to take in some beautiful ocean views.
With clean beaches, a lot of shops and restaurants, many tourists, local families and surfers come to Pismo Beach for a nice day out. The boardwalk is also a nice stroll along the beach in Pismo Beach.
Oceano Dunes, part of Pismo State Beach, is only 3 miles south of Pismo Beach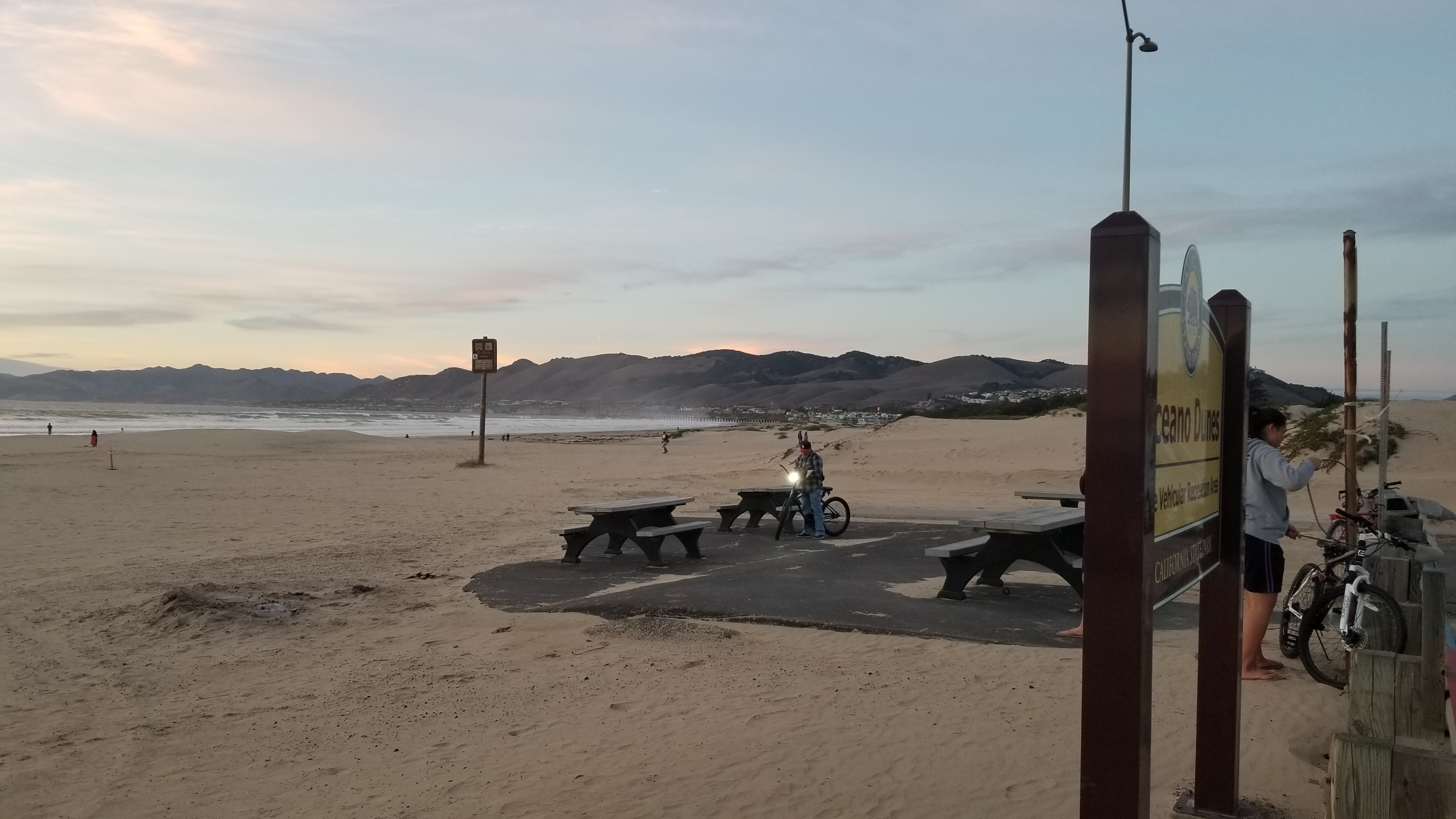 HotShots Billiards & Family Entertainment at Pismo Beach
Don't let the word Billiards throw you off from coming here with your kids! They have a lot of arcade games in the back with some centered on little ones! You can buy food or draft beer while the kids have some fun.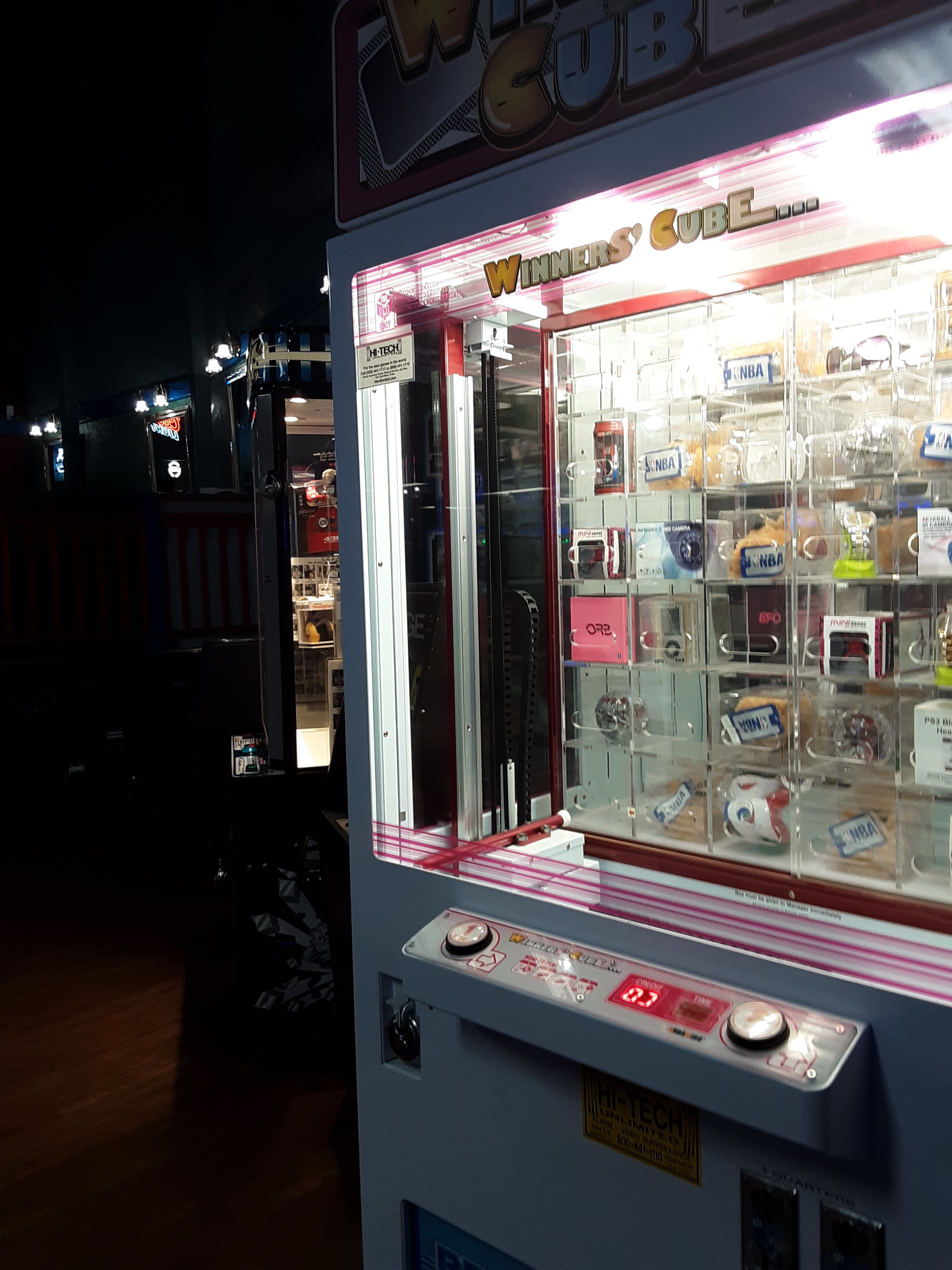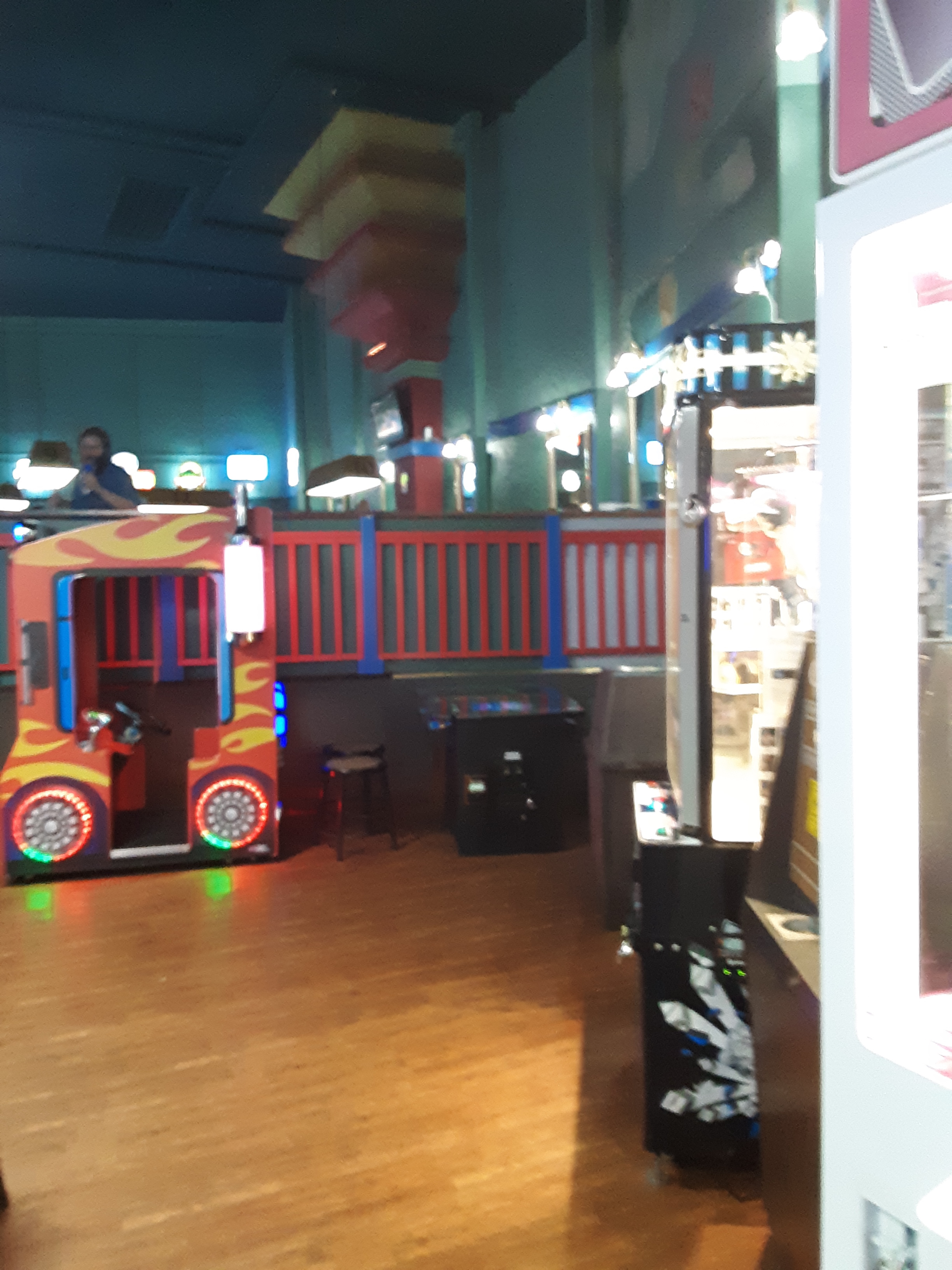 It's very close to the Pismo Beach Pier. You can park in the beach parking lot there and walk here. We came here with the little ones around 8pm and it is still family-friendly.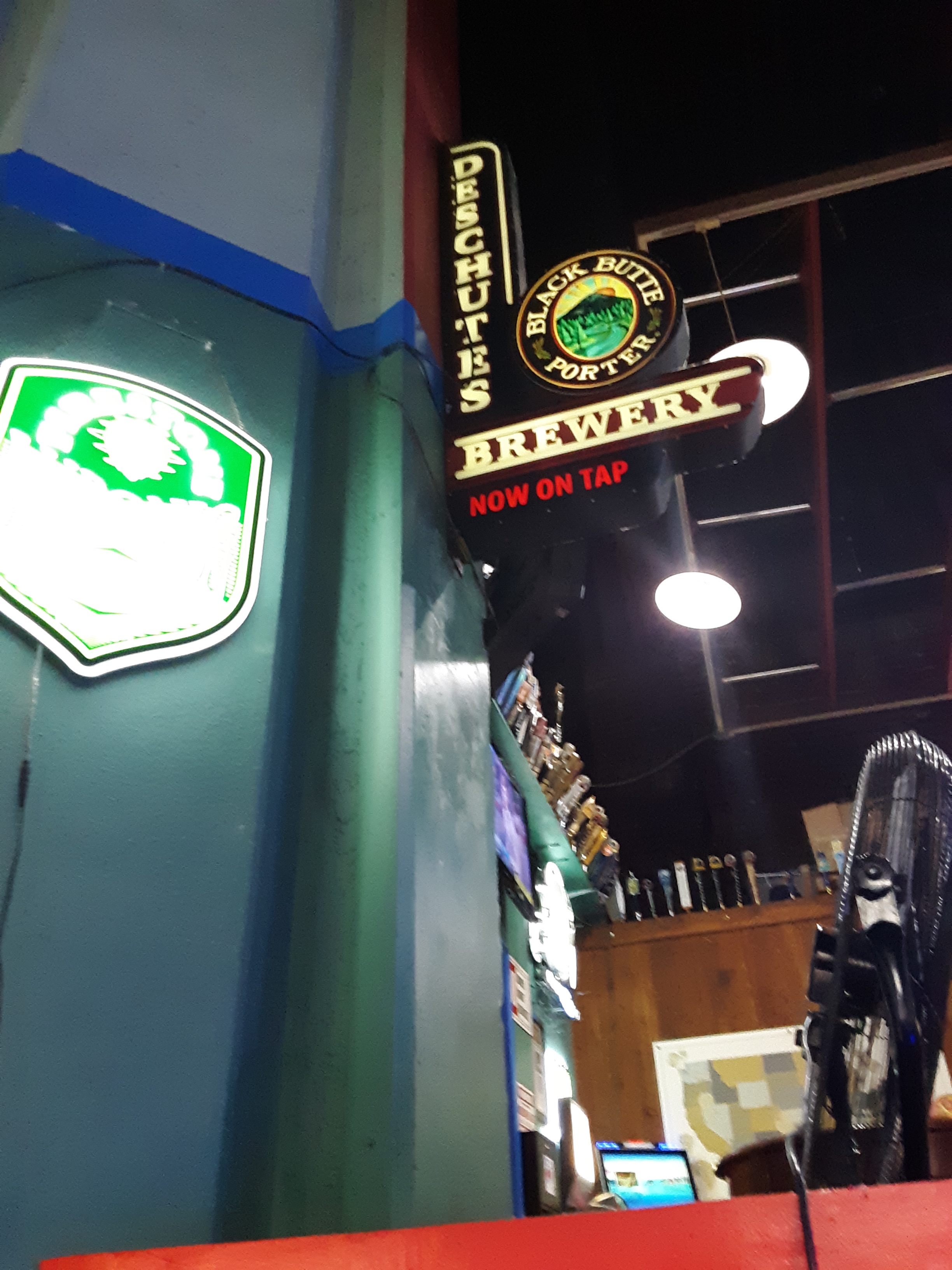 There is never an admission fee to enter the game area. Bring your quarters. Otherwise, bring cash to dispense some quarters here. Addre
ss:
250 Pomeroy Ave, Pismo Beach, CA 93449
Grover Beach
The smallest San Luis Obispo beach among the four, Grover Beach is a local quaint beach area. This place is more like a local beach than a tourist beach but of course, visitors are always welcome. The town is inviting with a lot of restaurant options.
Grover Beach and Sand Dunes Beach Entry
There is entry to the beach from Grover Beach via Grand Ave. Limited vehicles are allowed to park pass the check point or toll road because this is where you can enter your 4x4, ATVs and trucks and cars on the beach!
If you are planning on spending a long time at the beach here, walk to this entry point by parking down the intersection where there is public parking available, behind Fin's Restaurant.
See more beach pictures of Grover Beach taken by SanLuisObispoMom.com
Grover Beach Playground on 16th Street
About 16 blocks from the ocean is a residential playground that is open to the public in Grover Beach! With soft grounds, swings, slides and picnic tables, kids can roam freely with a lot of grass area. This is a great neighborhood park and there are also ADA-friendly swings. Address: S 16th Street & Mentone Avenue, Grover Beach, CA 93433
Cayucos
Located in the Northern part of San Luis Obispo County, this small beach town has a pier and a playground on the sand of the beach all centrally located side by side. There are many restaurants for you to dine at and the vibe is very relaxing. This town neighbors Cambria, another beautiful beach town in San Luis Obispo (SLO) County.
Morro Bay
As one of the more popular beaches for families, Morro Bay also has a lot of activities family can enjoy. With trails, surreys and kayaks for rent, many tourists come here to enjoy some outdoor activity as well as some water fun.
Check out the weekly farmer's market here as well.
Link to Morro Bay's SLO farmer's market info and other markets in SLO.
Morro Rock
An idyllic backdrop for Morro Bay, Morro Rock is the last of the (Nine Sisters) extinct volcanic peaks along Highway 1 from San Luis Obispo. This 576' tall landmark stands at the mouth of our harbor and is home to nesting Peregrine Falcons. The Morro Rock is huge.
You can't miss it and this volcanic plug attracts many tourists. There is a beachside right by the rock too and a trail that you can walk around alongside.
Always free.
See more photos of Morro Rock
. GPS Address: 1300 Embarcadero, Morro Bay, CA, 93442
Sea Otters
See the Sea Otters for free right at the T-Pier on the bay! It's of course free to see them because this is their natural habitat! You'll see baby sea otters on the mommies. It's a cute sight to see and worth the drive coming here.
Morro Bay Trolley
Only operating seasonally and links the North Main Street and Downtown Business Districts, Embarcadero, and State Parks. Cost is only $1 per ride. Children under 5 ride free. They may have discontinued this, post-pandemic.
Paso Robles, California is famous for their wineries and lucky for SLO, it is located within San Luis Obispo county. From award wining wines from dozens of wineries all over Paso Robles, it is a haven for wine enthusiasts. There are also a lot of kid-friendly things to do in this special town.
Read about our visit to the famous Justin's tasting room and Bianchi Winery
, both renowned wineries in Paso Robles.
Paso Robles Children's Museum

The Paso Robles Children's Museum is a two story museum located in the downtown area of Paso Robles. It may be a bit intimidating for the smaller toddlers but it's still a great place for the kids if you're nearby. See more pictures of our visits at Paso Robles Children's Museum in this blog post. It is much smaller than the San Luis Obispo Children's Museum so if you can pick and don't mind driving, between the 2, I'd recommend going to the San Luis Obispo one. Address: 623 13th St,Paso Robles, California 9344
The Ravine Waterpark (only open during summer season)
Open only during the hot summer months, The Ravine Waterpark is a great size for the family. Parking is free so you only pay for admission. On really busy days, the parking lot can get full so come early. You can also rent cabanas here. See hotels closest to The Ravine Waterpark in Paso Robles.
See a list of hotels close to Ravine Waterpark in Paso Robles.
They offer active-duty military discount with valid military ID. Address: 2301 Airport Rd., Paso Robles, California 93446
California Mid-State Fair
Only 12 days during July, the California Mid-State Fair takes place at Paso Robles Event Center. Many famous singers come and perform!
With carnival rides, hundreds of vendors and great eats, it's fun for the whole family. Address:
2198 Riverside Ave., Paso Robles, CA 93446
Free Story Time
Story times are great for little ones to get a chance to listen to stories with other little ones as well. They are always free at libraries and book stores like Barnes & Noble.
Our Favorite Books:
San Luis Obispo County Library Story Times
Barnes & Noble Bookstore Story Times
On Saturdays at 11AM, Barnes & Noble usually does a free story time for children in the Children's area. They are themed story telling according to the season. The kids' area is located on the second floor so take the steps or elevator up! Address:
894 Marsh St Bldg G,
San Luis Obispo, CA 93401
SLO Farmers Markets (ongoing weekly as weather permits)
San Luis Obispo Farmers Market in downtown
takes place every
Thursday from 6PM - 8:30PM
(weather permitting and excluding major holidays) on Higuera Street, San Luis Obispo, CA 93401 between Nipomo and Osos. Seasonally, Chorro Street and Broad Street may also be in use.
San Luis Obispo Market
at Address: 325 Madonna Road, San Luis Obispo, CA 93405 (World Market/Embassy Suites parking lot) take place on
Saturday mornings from 8AM - 10:45AM
.
Morro Bay Farmers Market
at Spencer's Fresh Markets parking lot Address: 2650 Main St., Morro Bay, CA 93442 takes place on
Thursday afternoons takes place from 2PM - 4:30PM
.
Pismo Beach Farmers Market
at Pismo Beach Pier Address: Pomeroy and Hinds Ave., Pismo Beach, CA 93440
every Wednesday from 4PM - 7PM
.
Arroyo Grande Village Farmers Market
in old downtown Arroyo Grande at Address: 193 Olohan Alley, Arroyo Grande, CA 93420 takes place on
Saturday Afternoons from noon - 2:30PM
.
Arroyo Grande Smart & Final Parking Lot Farmers Market
at Smart & Final parking lot at address: 1464 East Grand Avenue, Arroyo Grande, CA 93420 takes place on
Wednesday mornings from 8:30AM - 11AM
.
Nipomo Swap Meet & Flea Market
takes place every
Sunday from 6AM - 6PM, weather permitting
. They also have train rides called Choo Choo Safari inside the vicinity! It's great for kids! You pay a car entry fee to enter the Swap Meet & Flea Market to park. They have fresh produce, awesome Mexican food options all around the area and good yard sale type finds. Address: 263 N Frontage Rd, Nipomo, CA 93444
Attractions
Prices: $8 for adults & children, $5 for seniors 60+, $7 for military members and children 2 and under are free. Every once in awhile, they would have "Moonlight Hours" where anyone can come for free between 5pm - 8pm. Look out for that.
See more pictures from our visit to San Luis Obispo Children's Museum.
Address: 1010 Nipomo St., San Luis Obispo, CA 93401
Paso Robles Children's Museum

Located in the northern part of San Luis Obispo County is the Paso Robles Children's Museum. It's significantly smaller than the San Luis Obispo Children's Museum but the little ones will still enjoy it. It's inside a 2 story building in downtown Paso Robles, California and there are many restaurants within walking distance. The museum is closed on Mondays and Tuesdays but open on the other 5 days. Adult tickets are $8, children tickets for ages 1 - 13 are $7 and grandparent tickets are $5. They close at 4pm so make sure you plan your day accordingly. Address: 623 13th St,Paso Robles, California 93446
Charles Paddock Zoo
Hearst Castle
San Luis Obispo Railroad Museum
This is a 2 story museum that's great for kids and any train enthusiasts! Children 3 and under are always free here. Regular adult admission is only $5 and $3 for children ages 4 - 15 years old. They are opening for limited hours due to the pandemic. They have special events throughout the year. Address: 1940 Santa Barbara Ave, San Luis Obispo, California 93401
The Ravine Waterpark
Located in Paso Robles, this Waterpark is only opened during the summer time from Memorial Day weekend through Labor Day weekend. Prices are Regular $34.99, Junior $26.99, Senior $19.99 and Children under 2 are free. They also sell season passes. Address: 2301 Airport Rd., Paso Robles, California 93446.
Find hotels closest to Ravine Water Park.
Museum of Natural History - Morro Bay
I chaperoned for a field trip at Museum of Natural History in Morro Bay and after visiting here, this place is now my favorite museum for all of SLO County! The museum is small but still educational. You can see a wonderful view of Morro Rock. There are walking trails around it with phenomenal views. The museum is
free for children who are 17 years old and under! Price for adults is only $3 each. Here's a picture that I took looking out of the window with the view of Morro Rock while inside of the Museum of Natural History.
Morro Bay's Morro Rock is one of the more famous landmarks of San Luis Obispo County.
Read my blog entry about Morro Bay
. Address of Museum of Natural History in Morro Bay: 20 State Park Road, Morro Bay, CA 93442
Birthday Party Ideas
Pacific Flips Gymnastics Birthday Party
Pacific Flips has two locations: Grover Beach and Santa Maria. We've planned a birthday party for our child at the Grover beach location and had an excellent experience. Their birthday packages are either for 90 minutes or 2 hours. Parents are welcome to come watch.
They set up 2 tables ahead of time per your reservation and you just bring your decoraton.
For more pictures and details, read about our detailed experience
in this
Pacific Flips Birthday blog
entry.
Central Coast Aquarium Birthday
For a 2 hour slot, you can have a birthday party for your child at the Central Coast Aquarium in Avila Beach. They host birthday parties on Saturdays and Sundays. Their minimum birthday packages start at $250 and include 12 children for that price (additional cost for more kids).
To see more pictures of the aquarium, read our
review blog entry of Central Coast Aquarium
.
Doc Burnstein's Ice Cream Lab in Arroyo Grande
Located in the Southern part of SLO County in Arroyo Grande is a neat ice cream shop with a private party room in the back. If you host a party here, they have an organized timed slot with a dedicated host included. Doc Burnstein's Ice Cream Lab Address: 114 W Branch St, Arroyo Grande, CA 93420