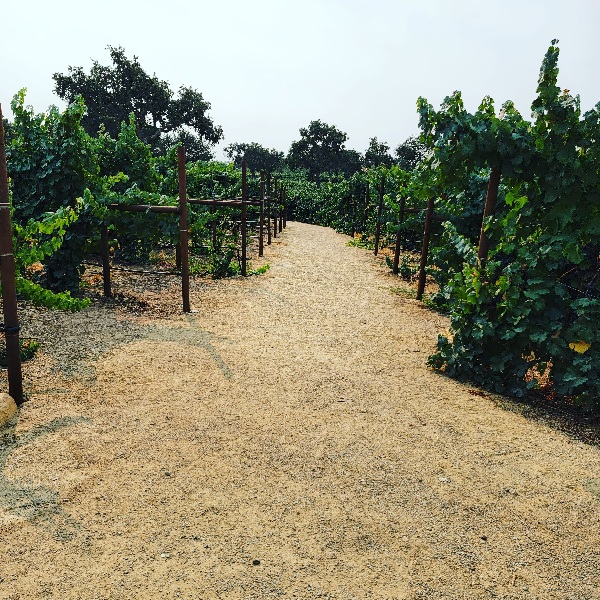 I'm a local in San Luis Obispo County and this is a list of my top favorite 10 wine tasting rooms that I've visited in San Luis Obispo County (SLO) County, including Edna Valley and Paso Robles. The order and list may change as I continue to explore more wineries. So far, I've explored over 40 tasting rooms in San Luis Obispo County.
Tolosa Winery

Tolosa Winery is the very first winery we visited in San Luis Obispo County because of the high reviews. We were wowed by it from the very beginning and we like to take our visitors here to wine taste as we know they'll be impressed from the drive through their gate, all the way through the wine tasting experience. We really enjoy the ambiance, excellent guest services and views of the vineyards here at Tolosa. They have an indoor tasting room and a nice large outdoor patio area. If you're a wine club member, you have the option to taste in their member-dedicated lounge that is open only on the weekends. Tolosa is open every day except for 2 main holidays. Read more details and see pictures about my multiple visits here at Tolosa Winery on this blog post. Tolosa Winery Address: 4910 Edna Road, San Luis Obispo, CA 93401 (Edna Valley)

Clos Selene

Clos Selene is way up here because of the smoothness and taste of their wine and and immaculate estate! Tastings are private and by reservations only. They are unique because they focus on French wines, has a romantic story and has high class service. Upon seating, we were served warm French bread that was freshly baked. We had made a 10AM reservation and it was nippy in the morning of mid-September so they offered us blankets to stay warm until the sun came out. This was excellent and unique service and we loved that our designated host was from France. We were luckily seated in the gray couches on the far right side from the host stand and loved our closer view of the vineyards. You can read a full review of my Clos Selene visit on this dedicated blog post.

The winemaker's home is actually on the property and located right next door to the tasting room. Here's a my short video of my visit at Clos Selene below. It was very romantic.

Clos Selene Address: 2040 Niderer Rd, Paso Robles, CA 93446

DAOU Family Estates (Vineyards)

With the estate located in Paso Robles, DAOU wines is renowned to wine connoisseurs from all over. DAOU Family Estates sits on top of a mountain with immaculate views of the vineyards. They have the most beautiful view among my entire list here! We came right when they opened so it was a chilly fall morning. They offered us blankets and we gladly used them. The estate is so beautiful and I love that they encouraged us to walk around to check out the views and take some pictures.

DAOU's tasting room also offers a food menu that pairs well with their current list of flights. We chose the scallops and did not regret it. My husband and I shared it and our attendant gave us an extra pour to of the wine that paired well with our food since I had forgotten and drank my pour before the food arrived. That was very nice of our attendant and felt it was high class service. See more pictures and a full review of of my visit at DAOU Family Estates on this blog entry. DAOU Family Estates Address: 2777 Hidden Mountain Rd., Paso Robles, CA 93446

Vina Robles Vineyards & Winery

Vina Robles Vineyards & Winery is one of the first tasting rooms that we visited in Paso Robles. The place feels so luxurious and spacious in the tasting room. There is also patio seating as well in their courtyard space. We've visited their bistro for lunch a few times and although the menu is small, the food was always amazing. Not all wineries offer lunch menu options so it was a very wonderful thing for us that they do as we do live 45 minutes away and more likely than not, be ready to eat after the wait time to order and for the food to arrive. It is highly recommended to make a reservation to enjoy lunch at the bistro. They also have a very nice attached amphitheater that many famous bands have performed! We were wine club members before the pandemic and had taken advantage of this and were able to to arrive an hour earlier than the other concert-goers as a perk for being a wine club member. This made it less stressful to get there and we were still able to enjoy their wines earlier on. Read more details and see more pictures about my visits at Vina Robles on this blog post. Vina Robles Vineyards & Winery Address: 3700 Mill Road, Paso Robles, CA 93446

Tooth & Nail Wine Company

Tooth & Nail Wine Company in Paso Robles is a castle! The place is beautiful. It is the only winery in Paso Robles that is a castle. It also has a moat that you'll pass by as you head towards the entrance. If you have a wheelchair or stroller, you can enter on the left side of the building instead because the center entrance does not have a ramp. While we were there, only adults could sit in their pretty tasting area inside. Patrons with pets or children could only sit in the patio area in the front. They have a food menu that is available every day so you can enjoy a meal while having a tasting here. They host large special events throughout the year here, which makes them stand out from many wineries in the area. See all of the pictures that I took of Tooth & Nail Wine Company's castle winery. Tooth and Nail Winery Address: 3090 Anderson Road, Paso Robles, CA 93446

Sextant Winery in Edna Valley

There are two Sextant Winery tasting rooms in San Luis Obispo County. The one that we've visited is the Sextant Winery in Edna Valley. The other one is in Paso Robles, which we have not visited yet. They also have a partner winery at the tasting room called Paris Valley Road Estate Winery that serves their wine, which you can read about on #6 below. We particularly like this Sextant Winery tasting room in Edna Valley because they also have a gourmet deli that is open every day for lunch. There is no other winery that has a regular food menu like this in all of Edna Valley, at least not yet. They are the only one. Not only that, they have a rustic theme and decor to represent Old Edna. It's a nice local spot and visitor's spot as well. We always enjoy having a tasting with a salad or sandwich there. There are only a couple of indoor seating tables but there are several options for outdoor seating. They sell seasonal goods and gifts inside that I find very tasteful! See my video below from our lunch date at Sextant in Edna Valley in February when they had their Valentine's gifts out on display.
Sextant Winery Edna Valley Address: 1653 Maxwellton St, San Luis Obispo, CA 93401

Kelsey See Canyon Vineyards




Located near Avila Beach, Kelsey See Canyon Vineyards is an isolated vineyard with peacocks! You can see many of these beautiful peacocks roaming around as you're just sitting around, wine tasting there. They make a unique crow that's quite loud and entertaining. Kelsey See Canyon Vineyards also grow apples so you can see all of the apple trees around there as well. All of the seating is outside with many patio seating and umbrellas to pick from. Therefore, watch for the weather before coming here so that you may enjoy the outdoor tasting experience here. In the past, we have brought a picnic with us while doing wine tastings there with friends and there was no minimum bottle purchase requirement. Just make sure to clean after yourselves when you're done. The peacocks really made wine tasting here extra special. Kelsey See Canyon Vineyards Address: 1947 See Canyon Rd, San Luis Obispo, CA 93405

Paris Valley Road Estate Winery

Located in Paso Robles, Paris Valley Road Estate Winery is immaculate! Their tasting room inside has a spacious and a very new luxurious design. They have a paved parking lot and two large buildings that you can see right off the CA-46. There is a lot of indoor space and outdoor space. They partner up with Sextant and since we're Sextant wine club members, we were able to taste here at Paris Valley Road Estate Winery for free. It's a great perk as not very many wine clubs have multiple affiliations like this and we were happy to take advantage of it. All of their wines were really wonderful and if we weren't so stocked from our wine club commitments, we would have bought a bottle during our first tasting there. There is definitely a romantic vibe about this place. Paris Valley Road Estate Winery Address: 5625 East Highway 46, Paso Robles, CA 93446

Eberle Winery

Eberle Winery definitely is unique from long list of wineries in Paso Robles because they have an underground cave and offers cave tours everyday to visitors! They are very pet-friendly and I've seen many pets accompany their owners here on the deck. There is a beautiful view on the deck with chairs that you can sit on while you enjoy your tasting. There is a lot of room to roam around too. On a very busy day, parking can get really difficult! Their cave tours are definitely worth coming for and they also offer veteran discounts year-round on bottle purchases! You can reserve a nice spot or area in the cave for a special occasion. Eberle Winery Address: 3810 CA-46, Paso Robles, CA 93446

Edna Valley Winery

Edna Valley Winery located in Edna Valley of San Luis Obispo has one of the best views of the vineyards and valley! There's a nice green outdoor area for you to enjoy your wine tastings. However, if you want to sit and taste indoors in their tasting room, you'll have to be a wine club member. You're welcome to stand and wine taste inside or bring it outside and sit but in order to sit down in a chair inside of their beautiful tasting room, you have to be a member. We were thrown off by that because there is not a separate space from the main indoor area with all of the chairs. They're just scattered all around. While tasting here, standing up next to my spouse, I couldn't help but think that Tolosa (another winery in Edna Valley that I ranked as #1 at the top) does this so much better. To compare, Tolosa Winery had a dedicated standing tasting room that's inside and then a large outdoor patio space for both members and non-members to sit and enjoy their wine with attentive service. There was no perplexing confusion. Again, Tolosa Winery got this right when handling non-members and their wines tastes better in my opinion, according to my personal palate preference. However, Edna Valley Winery views are so incredible that I have to put them up among my top 10! On a nice clear day, when outdoor wine tasting makes sense, Edna Valley Winery is really a great choice to hang out outside. Edna Valley Winery Address: 2585 Biddle Ranch Rd, San Luis Obispo, CA 93401

JUSTIN Downtown Tasting Room (not top 10, but so close!)

I really didn't want to include JUSTIN among my top 10 list here because of their sexual harassment allegations but a couple of their wines are famous and award-winning and I like their wines. This Downtown tasting room is also very posh and beautiful. I feel like it is definitely made for Hollywood stars who are trying to get away from Los Angeles and escape to the slower pace of the wine country of Paso Robles and SLO County; and impressionable dates or parties. This tasting room is also centrally located in Downtown Paso Robles and walking distance to many wonderful restaurants and other wine tasting rooms. If it doesn't bother you that they've been reported of many management's sexual harassments towards their employees and you have always wanted to visit this award winning place, then be assured that their wines are as great as their wine-making reputation. JUSTIN Downtown Tasting Room Address: 811 12th St., Paso Robles, CA 93445

Bianchi Winery & Tasting Room (not top 10, but so close!)

As you step outside to Bianchi's patio, the large koi fish pond here will take your breath away. It is beautiful and memorable. It sets them apart from the hundreds of wineries in Paso Robles and the views of the vineyards are romantic and perfect for impressing a special someone. It has the most perfect backdrop for parties as well. It was the ambiance more than anything that inclined me to include this on my top 10 list. Many tourists come here to enjoy their wine tasting adventure. If I were a tourist and could only visit 10 wineries, this would be one to consider but it definitely does not rank higher than the ones on top for me. It would be a nice and intimate place for a rehearsal dinner or wedding. Bianchi Winery & Tasting Room Address: 3380 Branch Road, Paso Robles, CA 93446
Background on Our Wine Tasting Experiences
After moving to San Luis Obispo (SLO) County, my husband and I started learning more about wine tasting as our county has many wineries and tasting rooms that are renowned for the Central Coast. As we were exploring (and still are) our area, wine tasting is usually one of the top suggested things to do in printed travel guides and websites about SLO for the 21 years old and older visitors because there hundreds of different wineries throughout San Luis Obispo County! I wanted to personally experience some of the best wine tasting rooms first hand.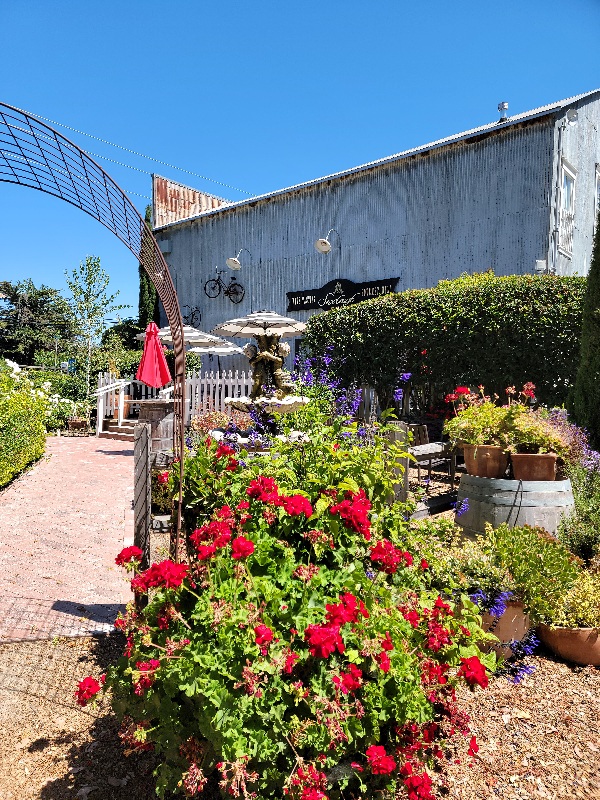 At first, we tried the most popular one in Edna Valley named Tolosa Winery and then started going to a few tasting rooms in Paso Robles (northern part of SLO County) like Justin's Tasting Room. We've discovered that trying to catch the distinct tastes and notes of each different wine was really fun so we joined a couple of tasting rooms and continued to go adventuring and discovering tasting rooms at other wineries in our leisure time.
Even after living in SLO County for over 4 years, we've only been able to hit just over 40 different wineries/tasting rooms. You can find over 300 wineries, vineyards and tasting rooms in just Paso Robles area and 2 dozen tasting rooms in the Edna Valley region (San Luis Obispo City proper). For us to even tackle a hundred will probably take us a decade as a local at our pace.

I've also written dedicated blog posts on certain wineries. You can read them here under the Wineries category.
My 1 Minute Video Clip of My Personal Visits at San Luis Obispo County Tasting Rooms
You can see 16 different clips of my recent wine tasting adventures throughout San Luis Obispo County (about half are in Edna Valley and the other half are in Paso Robles) on on this 1 minute instagram reel.
Reading Suggestions:
Dressing Up for the Vineyards:

In : Wineries
Tags:
winery reviews for edna valley
winery review paso robles
tasting room reviews
san luis obispo county
kid friendly wineries
dog friend vineyards
best wineries in paso robles
best wineries in edna valley