Halloween for Kids, Pumpkin Patches & Harvest Events in SLO County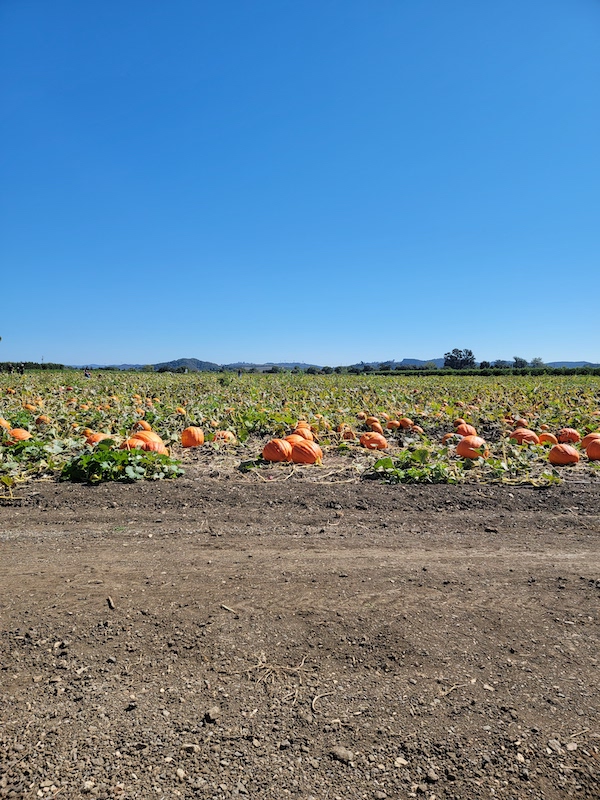 Events
(*Keep scrolling to see a list of 10 Pumpkin Patches in San Luis Obispo County in the next section.)
October 27 - 29, 2023 (Fri - Sun) - Marathon Monster Mash at Elm Street Park in Arroyo Grande for 3 days. Cost is $25 for tickets for unlimited bounce-n-play/per day and $3 - $5 per activity. Hours are different every day. Fri: 6PM - 9PM, Sat: 12PM - 8PM and Sun: 12PM - 4PM. Address: 1221 Ash St. Arroyo Grande, CA 93420
October 28, 2023 - Pumpkins in the Park at Dinosaur Caves Park in Pismo Beach from 10AM - 1PM. Free event. Children ages 12 and under can participate in pumpkin decorating, games, crafts, bounce houses and more. Costume contest starts at 11:30AM. Food and beverage will be available for purchase.
See more pictures that I took at Dinosaur Caves Park. Please leave pets at home. After the event at Pumpkins in the Park at Dinosaur Caves Park, drive to Downtown Pismo Beach to trick or treat from 12PM - 1PM at participating businesses. Dinosaur Caves Park Address: 2701 Price St., Pismo Beach, CA 93449
October 28, 2028 (Sat) - Halloween Market at Nova Coffee Co in Arroyo Grande from 10AM - 2PM. Shop local vendors at a coffee shop. Bring the kiddos dressed up for trick or treating and face painting. Free entry. Address: 1156 E Grand Ave., Arroyo Grande, CA 93420
October 28, 2023 (Sat) - Wiggle Waggle Fall Festival at Woods Human Society from 12PM - 3PM. Free fall-themed community pet celebration and a whole lot of HOWL-o-ween fun! Activities include: kids' and canines' costume contests, stuffed-animal pull, bobbing for tennis balls, dog training demos, photos in the Pup'kin Patch, Santa Paws Portraits, local artisan goods, delicious food, face painting and more. Address: 875 Oklahoma Ave., San Luis Obispo, CA 93405
October 28, 2023 (Sat) - Morro Bay Trick-Or-Treat at Morro Bay Businesses from 2:30PM - 5:30PM. There will be a map available at 2:30PM that day at the City Rec Booth that will be located at the corner of Morro Bay Blvd., and Main St. There will be a photo booth, face painting, bounce house, haunted trolley, candy and more. Address for GPS: Morro Bay Blvd & Main St., Morro Bay, CA 93442

October 28, 2023 (Sat) - San Miguel Trunk Fest at San Miguel Park from 5PM - 7:30PM. Free community event planned by local REALTOR and church. Harvest games, vendors and more. Address: 1325 K Street, San Miguel, CA 93451

October 28, 2023 (Sat) - Trunk or Treat 2023 at SLO City Church from 5PM - 7PM. Inflatables, games, pizza and candy. It will be at the parking lot. Address: 1150 Laurel Lane, San Luis Obispo, CA 93401

October 28, 2023 (Sat) - Zoo Boo at Charles Paddock Zoo from 5PM - 8:30PM. Dress up in your not-so-scarry costume and come to the Zoo ready for fun. Activities include carnival-style games with trinket prizes. According to the Charles Paddock Zoo website, prices are $16 per person; Members $15 per person; Ages 2 and Under Free. I went to his event in the past with my sons. See my instagram reel of Zoo Boo at Charles Paddock Zoo or my blog entry about Charles Paddock Zoo to see pictures of animals. Address: 9100 Morro Road, Atascadero, CA 93422

October 28, 2023 (Sat) - Trunk or Treat at Birchwood Nipomo at 5:30PM. Candy handout, face painting and spooky fun. Address: 323 W Tefft St., Nipomo, CA 93444

October 29, 2023 (Sun) - Halloween Pet Costume Contest at Pismo Beach Veterinary Clinic with registration starting at 12PM and judging starting at 12:30PM. Address: 990 Price Street, Pismo Beach, CA 93449

October 29, 2023 (Sun) - Oktoberfest 2023 in Baywood-Los Osos from 9:00AM - 5:30PM. Family friendly event with kids' zone. There will be music, beer garden, local food vendors and a costume contest. Address for GPS: 2nd St & Santa Maria Ave., Baywood-Los Osos, CA 93402

October 29, 2023 (Sun) - Dia de Los Muertos in Mission Plaza in Downtown San Luis Obispo from 2PM - 6PM. There will be a costume contest, altars, family fun, music and dance Address: 989 Chorro St., San Luis Obispo, CA 93401

October 29, 2023 (Sun) - Trunk or Treat at Nipomo Presbyterian Church from 3PM - 5PM. Free event for the community. Free admission. Address: 1235 N Thompson Ave., Arroyo Grande, CA 93420

October 29, 2023 (Sun) - Trunk or Treat at Sunken Gardens in Atascadero from 4PM - 6PM. 50 + cars decorated. Event is organized by 4 different churches. Address: 5942 West Mall, Atascadero, CA 93422

October 30, 2023 (Mon) - Halloween at The Market at SLO Public Market from 11AM - 8PM. Trick or treating opportunity by 10 different businesses. See restaurants that I've personally visited at SLO Public Market. Address: 3845 S Higuera St, San Luis Obispo, CA 93401

October 31, 2023 (Tues) - Safe and Fun Halloween Downtown Paso Robles from 3PM - 6PM.
Take a photo with a witch. On the paper calendar that the The Paso Robles Press mailed out, it says 4PM - 7PM but on the chamber's website here, they say it's from 3PM - 6PM. Check the time as it gets closer. Address for GPS: 12th and Park Streets, Paso Robles, CA 93446
October

31, 2023 (Tues) -

Trick
or Treat on Main St in Templeton from 3:30PM - 6PM

. Look for the pumpkin in the window for participating businesses.
Over
50 businesses are
participating
. Address for GPS: Main St & 8th St., Templeton, CA 93465
October 31, 2023 (Tues) - 4th Annual Trunk or Treat in at Pinedorado Grounds in Cambria from 4PM - 5:30PM. This takes place after the parade. All are welcome. Address: 940 Main St., Cambria, CA 93428
October 31, 2023 (Tues) - Trick or Treat in the Village in Arroyo Grande from 4PM - 6PM

. This is
organized
by H
ello
Village
Mercantile.
Address
for GPS:
100 W Branch St
,
Arroyo Grande, CA 93420
October 31, 2023 (Tues) - Trunk or Treat in San Simeon from 4:30PM - 6PM
. It's located in the scarecrow grounds next to San Simeon Beach Bar & Grill. This is a last minute announcement.
Read details of this event here
. Address for GPS: 9520 Castillo Dr., San Simeon, CA 93452
October 31, 2023 (Tues) - Trick or Treat Downtown Atascadero from 5PM - 8PM on Halloween night. Free event. On Entrada Ave. in Downtown Atascadero, people and pets of all ages are welcome to come and enjoy family, children, and pet costume contests, games, and Trick or Treating. Address for GPS: Entrada Ave, Atascadero, CA 93422

All of October - Scarescrows on display in Cambria and San Simeon. Hundreds of unique creations are expected to be on display between the 2 towns. This is family-friendly and best viewed during the day.
November 17 - 19, 2023 (Fri - Sun) - Atascadero Fall Festival for 3 days at Sunken Gardens.
Free admission. Carnival games and rides cost money. 35 bands on 2 stages. Over 15 different food vendors. Address: 6505 El Camino Real, Atascadero, CA 93422
Pumpkin Patches and Farm Fun
List of Pumpkin Patches, Corn Mazes and Farms in San Luis Obispo County with Pumpkins
Avila Valley Barn has pumpkins for fall during the fall season and also offers hayrides for a cost. You can visit farm animals for free! See pictures that I've taken at Avila Valley Barn on this blog post. This barn is open year round and attracts a lot of tourists. Parking is free and you can even shop at their market for produce, desserts and toys.

See my instagram reel to see my recent visit at Avila Valley Barn in October.
Avila Valley Barn Address: 560 Avila Beach Dr, San Luis Obispo, CA 93405
The Pumpkin Patch in Edna Valley now has pumpkins for 2023 through Halloween with pumpkins already cut but you can pick them yourselves starting on September 16th, 2023. They also have a corn maze (costs money).

See our pumpkin patch IG video reel of our personal visit through the corn maze here. Address: 2315 Biddle Ranch Road San Luis Obispo, CA 93401

Brookshire Farms

will be officially open starting on September 30 through October 31, 2023 but closing every Monday.

Farm

Adventure Hours are

Tues-Fri: 12pm-6pm, last entry @ 5:15pm,

Sat & Sun 10am-6pm, last entry @ 5:15pm.

Pumpkin Shopping Hours are

Tues-Fri: 12pm-7pm,

Sat & Sun 10am-7pm.

Their soft opening is between September 23 - 29, 2023 between 12PM - 6PM with limited activities. They usually have night mazes here during the weekends of October, in addition to pumpkins. Address: 4747 Los Osos Valley Rd, San Luis Obispo, CA 93405

Nipomo Pumpkin Patch

will be open starting on Sept 23 through Oct 31, 2023. They have the largest pumpkins around with the best prices. It's a great place for a photo opportunity. See a picture that I've taken at Nipomo Pumpkin Patch on instagram. Address: 662 Eucalyptus Rd, Nipomo, CA 93444


River "K" Pumpkin Patch & Corn Maze

will be open every day in Paso Robles for October. Free parking, free entry, no dogs allowed. According to their instagram, they prefer to take cash. Address: 5670 N River Rd, Paso Robles, CA 93446
SLO Creek Farms is usually open in the fall. Besides for pumpkins during the fall season, they also have fresh flowers and other fruits that you can pick yourself throughout the year. It's a beautiful farm for a photo opportunity. See my video reel on instagram at SLO Creek Farms from our past visit. Address: 6455 Monte Rd., San Luis Obispo, CA 93401
Jack Creek Farms has pumpkins in the fall for October and their hours change by the season. They have been named one of the top 30 pumpkin patches in U.S.A. by Yelp. Address: Jack Creek Farms, 5000 CA-46, Templeton, CA 93465

Chesebrough Farm Family Fun

has dozens of varieties of pumpkins and winter squash and they are open to the public starting Oct 1 through Oct 31 every day from 10AM - 6PM. Address: 790 Moss Lane, Templeton, CA 93465
Willow Pumpkin Patch will open on October 6, 2023 and it'll be open from Fri - Sun only through Oct 22, 2023. Hours are 4PM - 8PM on Fridays, 12PM - 8PM on Saturdays and 2PM - 8PM on Sundays. There are pony rides that you will have to pay for. This is a church fundraiser. They suggest a parking donation of $10. Address: Willow Rd & Hetrick Ave., Nipomo, CA 93444

Tar Creek Ranch

is located in AG and took a bit of a drive. I was impressed with how many kids' activities they had in the past but, they are not open to the public this year. See my video reel on instagram of my past family visit at Tar Creek Ranch in Arroyo Grande during October from a couple of years ago. They are a great venue for special events like a wedding or work party. Address: 2514 Huasna Rd., Arroyo Grande, CA 93420
More About Pumpkin Patches in the Area
Some pumpkin patch places allow you to cut the pumpkins you've selected off the vine or they have already been cut and you can just pick from their pile! A few places have corn mazes and other kid-friendly activities too.